Submitted by lawrence on November 2, 2017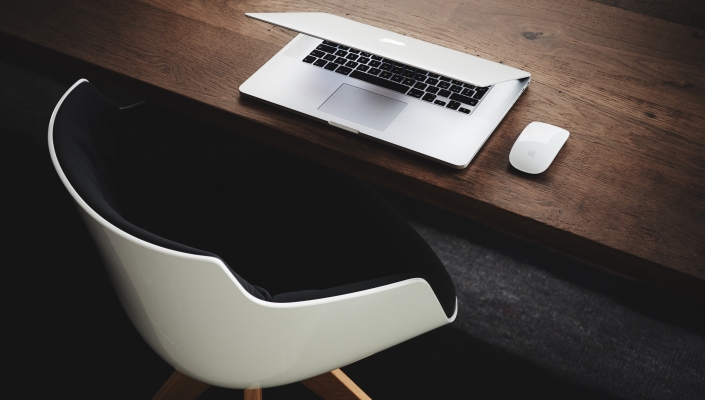 BT has reported a reduction in both sales and profits for the second quarter ended 30 September. Sales dipped 1% to £5.95bn, with underlying revenue down 1.5%, and adjusted EBITDA fell 4% to £1.81bn. In US-trading, BT Group was 4.1% lower in the premarket - to five-year lows -- after posting the Q2 earnings where troubles in its Global Services unit weighed on results, and the company signaled that reinvestment would take priority over any dividend raise.
BT said the performance "reflected" increasing investment in sports rights and customer experience, along with higher pension costs and business rates, and a decline in its Global Services business, although cost savings were made to limit further financial damage. The group is still struggling to reduce its mammoth pension deficit which is always the big elephant in the room when BT results are reported. The company also recently warned that if the government wanted improved fibre infrastructure across the UK, end customers would have to pay more for faster fibre subscriptions.
For the quarter, net cash inflow from operating activities was £1.27bn, down £464m, and normalised free cash flow of £689m was down £205m - "due to working capital phasing and higher capital expenditure", said BT.
Reflecting the underlying difficulties BT faces, the interim dividend for future years has been set at 30% of the prior year's full year dividend. The Interim dividend for this year has been held flat at 4.85 pence per share.
Gavin Patterson, BT chief executive, said: "Our first half [and second quarter] results are in line with our expectations, as encouraging results in our consumer facing lines of business, notably EE, helped offset ongoing challenges in our enterprise divisions, in particular Global Services. Given our underlying business performance, we are maintaining our outlook for the year."
Global Services (below) is mired in an ongoing financial reporting scandal stemming from its Italian operations.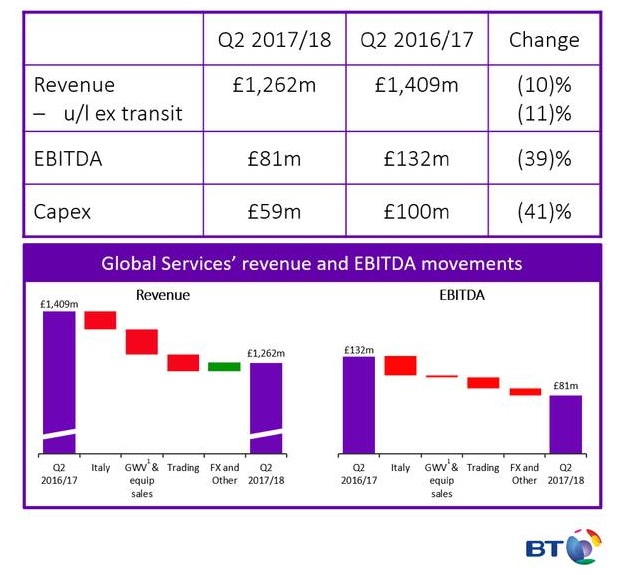 Patterson said: "Improving customer experience is critical to our success and we have seen continued positive progress underpinned by investments in operational improvements, increased network quality and customer-centric product development. Our integration and restructuring programmes are also on track to deliver run-rate savings of £250m and £150m respectively by the end of this year."
He added: "We are working closely with the UK government, Ofcom and our communications provider partners to find the right solutions to accelerate the deployment of fibre and our universal broadband commitment. We are committed to delivering ultrafast speeds to 12 milion premises by the end of 2020."