MSPs discuss getting more from customer relationships
September 22, 2017
Selling managed services is all about customer relations, and the ongoing connection with those customers, which means marketing has to up its game. At this week's Managed Services and Hosting Summit in London, hundreds of service providers and vendors met to plan the right strategies to take advantage of a rapidly growing cloud market, with clear up-selling opportunities outlined by MSPs themselves addressing the nearly 300 attendees..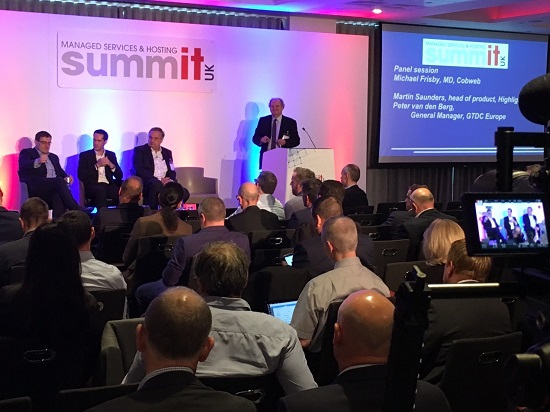 Michael Frisby (left on stage in picture), managing director of Cobweb Solutions, which sells cloud solutions from Microsoft, Mimecast, Acronis, BitTitan and a number of others, told the Summit that the firm now enjoyed 95% of recurring revenues as a result of turning itself into a cloud managed service provider.
To do this, he said, you had to get both the marketing and the training right among staff, and that a staged conversation had to be completed with customers to carry them on the managed service journey. Frisby said: "You first have to have a discussion around customer outcomes and what applications they might want. Then you can have a data security discussion with them – they may not want certain stuff. Then you can have a customer support conversation."
Michael Frisby said support opportunities in managed services were widespread and used the example of on-premise Microsoft Exchange with occasional upgrades versus cloud-based Office 365 with "hundreds of improvements being made on an on-going basis", which potentially feeds into lucrative managed service contracts being signed. He said: "You will constantly get calls from customers about the latest widget that has appeared on their screen."
He said MSPs also had to tap into the secure content needs of customers, not just around cyber security, but things like customers needing to know who had the corporate Twitter account log-in if someone responsible for the account leaves the company. They also had to deliver solutions that ensured a "great employee experience", that allowed staff to do their jobs "without hindrance". Such requirements allow MSPs to sell additional services to customers.
The up-selling opportunities were echoed by David Groves, Maintel's director of product management, whose company focuses on areas including mobile device support, contact centre as-a-service and managed WANs. Groves said: "We started out as a company offering service support and maintenance [for the systems the company integrates for customers] and then moved onto business services like capacity management and network security monitoring. The result is higher value services."
David Groves said: "We are now closer to our customers and we have a better set of tool-sets which can be used to win more business elsewhere."
The key role that distributors play in the service provider market was also discussed. Peter van den Berg, general manager Europe of the Global Technology Distribution Council, said: "Distribution is in the middle of all this and is the glue that brings it all together. Distributors never own the customer and service providers can just pick the services they require and that's it."
Peter van den Berg said the number of products and services that were needed on a customer project were often increasing, in areas like IoT, for instance, and that good distribution was key. Martin Saunders, head of product at cloud networking vendor Highlight, concurred: "Many vendors do not fully understand service providers. Good distributors help vendors understand service providers' involvement, they educate them about what they actually do."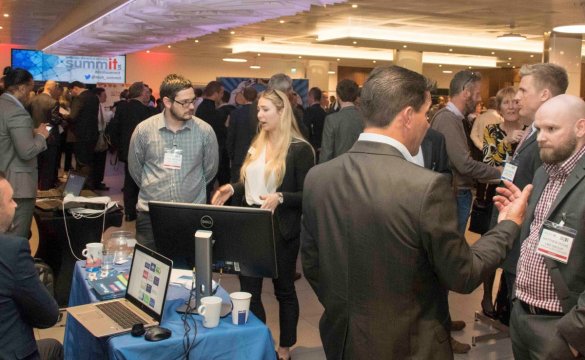 Some vendors also have to change mindset as to how they sell their solutions through service providers too. Along with others vendors at the Summit, security firm Forcepoint was keen to promote what improvements it was making in its service provider channel to make solutions more profitable for all parties. Alexandre Dumur, senior channel account manager at Forcepoint, said: "Typically, on-premise costs [when it comes to selling through the cloud instead] from the vendor to the service provider are simply diced into 12 monthly payments, but the commitments expected by the service provider are lengthy, sometimes up to three years. You can have the best solution for security but if you can't price it correctly for your customers it is not going to work."
Forcepoint was promoting its alternative formula for its cloud-delivered solutions: Only a 12 month commitment from MSPs for each customer, no up-front costs for software, and fixed monthly payments on only what you are using/selling to the customer – not what you have in terms of licenses.
The Summit sought to reflect the evolving market place service providers are finding themselves in and planning is already well ahead for the next event: the second annual European Managed Services & Hosting Summit on 29 May 2018 in Amsterdam.