Submitted by lawrence on May 15, 2015
With the nature and expected growth of managed services one of the key discussion points at last week's managed services and hosting summit, many think 2014 is the transition year, particularly for IT channels. Keynote present Gartner and Distinguished Analyst Tiffani Bova spelled out the views of many experienced IT hands when she said: "We have had recurring revenue in the channel for decades, it is not a new model. How the customer is using the technology is how it is changing."
What is new is connectivity and the changes it enables: "We have been looking at how to encapsulate the changes, so we have started to talk about the two speeds of IT. Speed one is renovating the core – technology that refreshes the data centre, virtualisation and moving off-premises – a long term project, becoming more competitive and that is where the channel is most comfortable, particularly the sales people and engineers."
Speed two builds on the Gartner Nexus of forces - mobile, big data, social cloud. This is now running through the marketplace and is about exploiting the new growth initiatives – "see it try it , use it" much more quickly. It needs different skills and sellers, even different buyers, she says.
For Mark Hart of Navisite – these challenges for the partner channel were how a hybrid strategy works; cloud and managed services are increasingly in a game of scale; size is needed for stability;
And the public/private split is where the opportunity lies for him. Cloud services still deliver on costs, but there are concerns over control – private cloud offers this, but may not have the cost model and flexibility. Traditional solutions in non-virtual environments still make up most of the IT spend. "It is rarely one size fits all. Public cloud is still dwarfed by private and on-premise data centres who have over 90% of the total business. But the growth is in the public area, and is expected to hit 25%, while the private model is just 4%," he says.
How does the channel fit into this – when 80% want to sell cloud, but it is still a small part of the their businesses. It is a problem in certain categories – skills, business model, billing models and provider selection, Mark Hart says.
So the strategy is also hybrid, he says. "Blending of the two models is where we see the real opportunity. A survey of customers' spending in the next 12 months shows that 65% expect private cloud to have the priority." Clients still want this on-premise technology. The role of the partner has changed, but is complex; while most deploy on -premise; integrators are supporting legacy applications as well, so they are not about to port to cloud.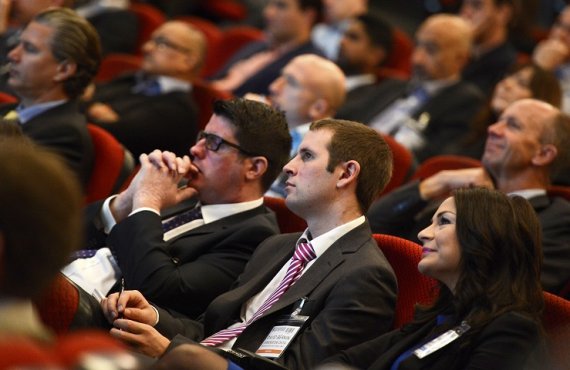 Service Providers have to add a layer to address the vertical markets such as healthcare. Dave Sobel of GFI MAX agrees on the history and what has changed. "Everyone talks about cloud, IT services, SaaS – it has been called all sorts – the only difference is that customers 'get' the marketing phrase. Doesn't mean any of the earlier ones were different."
"Connectivity is exploding and mobile is delivering, this is why it is resonating. I'm not fixated on verticals. - the great Service Providers are the one with best practices who measure their success on the business outcomes of the customers."
Good service is not new.