Submitted by Antony Savvas on February 8, 2022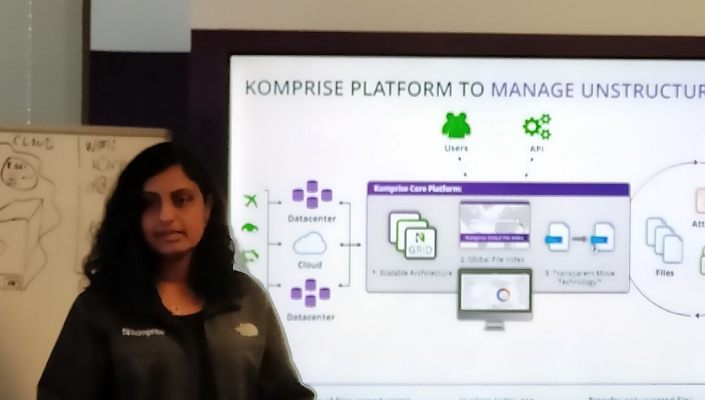 Unstructured data management vendor Komprise has been selected for the Microsoft Azure File Migration Program, just launched by Azure.
The programme gives customers access to file migration management at no cost, and complements the Azure Migrate portfolio, which customers use to automate and orchestrate the migration of servers, desktops, databases and web applications to Azure.
Komprise is one of a couple of Microsoft ISVs so far chosen for the programme, along with Data Dynamics. Enterprises, service providers and system integrators are being encouraged to sign up, to enable them to migrate data to a cheaper cloud storage solution with "no vendor lock-in".
Migrating on-premise applications such as file workloads, high-performance computing (HPC) and analytics requires identifying and migrating tens of terabytes to several petabytes of file data stored on NAS appliances and other on-premise storage to the right tier of Azure Files, Azure NetApp Files and Azure Blob Storage.
"Customers often guess at which data to migrate and to where, and these migrations can be labourious, error-prone and slow when moving large data sets," said Komprise.
"Komprise Elastic Data Migration is designed to eliminate the cost and complexity of managing file data by providing analytics-driven data migration to Azure without creating any vendor lock-in."
Once in, organisations will be offered the opportunity to upgrade to the full Komprise product, Komprise Intelligent Data Management, with extensive management features. Service providers have the chance to generate revenue by helping organisations in the data migration process and the ongoing cloud data management.
"By working closely with the Microsoft Azure Storage team, we can help enterprises accelerate their path to the cloud for file and object data and make their data available to cloud-based data lakes and AI services, without locking their data to proprietary storage technology," said Krishna Subramanian (pictured), president and COO of Komprise.
"Moving data to Microsoft Azure Storage needs to be fast and easy for our customers," said Jurgen Willis, vice president for optimised workloads and storage at Azure. "We are working with our ISV partners on delivering a valuable service, so that our customers can more easily and reliably move file data from expensive on-premise NAS devices to the cloud native storage services on Azure."
The Azure File Migration Program offers free software licensing, an onboarding session and limited access to support after selecting the Azure-sponsored offer from the Azure Marketplace.
IT Europa learned of Azure's impending sponsored Komprise offer at last month's IT Press Tour of Silicon Valley, which at the time was still under wraps.
Komprise VP of sales for EMEA Ben Conneely told press and analysts on the Tour that the UK, Ireland, DACH, Benelux and the Nordics were set to continue to be growth regions for the vendor this year, with big sales targets also set in France, Spain and Italy.
The company recently hired an EMEA channel alliances director. Existing EMEA partners include Tech Data, CDW, Telefónica Tech, Nephos, Oriium, SVA, Dynamigs, DMP and NetNordic.