Submitted by Antony Savvas on March 16, 2022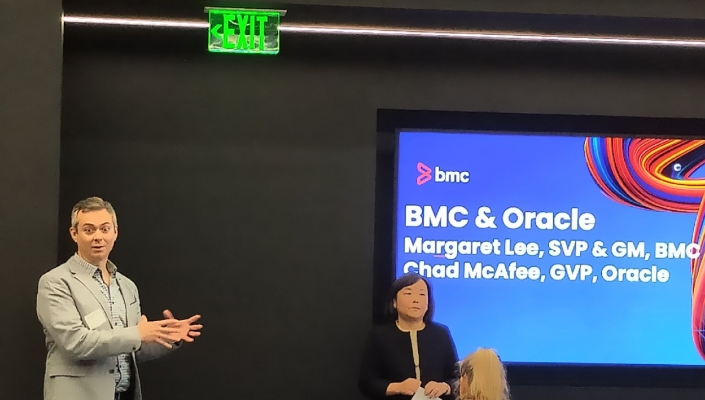 BMC is putting its Autonomous Digital Enterprise offering Helix into the Oracle cloud, that is expected to eventually see greater cross-selling between the two companies' channels.
Deploying the BMC Helix ITSM portfolio on the Oracle Exadata Cloud Service on OCI (Oracle Cloud Infrastructure) will deliver "considerable performance advancements" for enterprise customers, promises BMC.
OCI's built-in security and high availability helps customers around the world with their automation and service management requirements, without having to worry about capacity constraints. In addition, Oracle's footprint of 37 cloud regions around the world provides customers with business continuity, disaster recovery and addresses their data sovereignty requirements.
At a briefing to the week-long IT Press Tour in Silicon Valley (which IT Europa is attending) yesterday, ahead of the announcement, Margaret Lee, senior vice president and general manager for digital service and operations management at BMC, said: "Our goal is to offer customers the choices they need to enable faster, more accurate and more efficient ways of delivering service innovations across the globe."
She added: "Partnering with Oracle supports our multi-cloud strategy to deliver superior performance at the right price point for an exceptional customer experience. We're bringing leading-edge IT service management, employee self-service, IT operations and AIOps capabilities to IT teams through OCI."
As a customer of Oracle Exadata Cloud Service running on OCI, BMC will jointly market and sell the BMC Helix solutions with Oracle. BMC is a member of the Oracle PartnerNetwork (OPN) and an ISV Accelerator partner.
The BMC Helix ITSM solution will be available in the Oracle Cloud Marketplace, where customers can search for available applications and services to find the best-suited business solutions for their organisation.
Appearing at the alliance launch at BMC's new Innovation Labs in Santa Clara, Chad McAfee, GVP at Oracle, said: "There will be greater Exadata integration with BMC, and there will be cloud region planning with BMC about how to best support BMC apps with Oracle databases. There will be sales team crossover and deal closing."