Submitted by Antony Savvas on March 15, 2022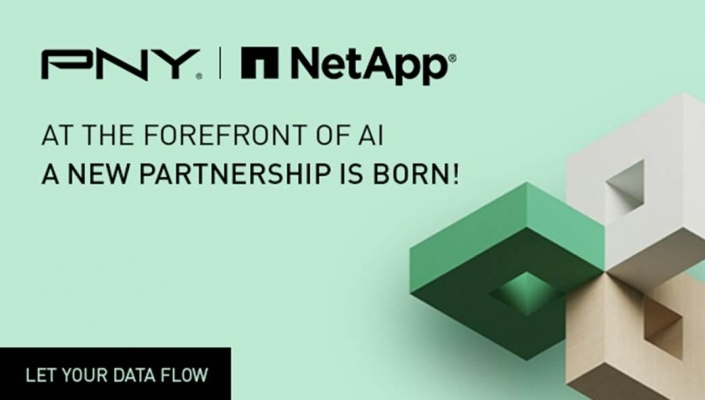 PNY Technologies, a global provider of components and solutions for the artificial intelligence and high-performance computing market, has sealed a European distribution agreement with data storage firm NetApp.
NetApp and PNY are teaming up to provide customers with systems featuring NVIDIA accelerated AI computing. PNY works with partners across all distribution channels, including wholesalers, workstation system integrators, NVIDIA Partner Network members and value-added resellers.
The collaboration with NetApp allows PNY to strengthen its global AI offerings with complete clusters that meet the requirements of high-performance AI.
"Companies and organisations of all sizes and across many industries are turning to artificial intelligence, machine learning and deep learning to solve real-world problems, deliver innovative products and services, and to get an edge in an increasingly competitive marketplace," said Kristian Kerr, channel vice president for EMEA at NetApp. "As organisations increase their use of AI, ML and DL, they face many challenges, including workload scalability and data availability. With PNY, NVIDIA and NetApp, our partners have the support of the very best in the market and can comfortably position themselves in this long-term growth sector of the industry."
PNY will rely on NetApp ONTAP AI solutions, integrated with NVIDIA DGX systems and NVIDIA Spectrum Ethernet switches, to offer AI clusters of up to ten nodes.
"This partnership is a win-win solution for both companies, offering NetApp's AI hardware and software solutions will enable PNY to offer its customers a complete package for configuring NVIDIA enterprise AI infrastructures," said Jerome Belan, CEO of PNY EMEA. "Our expertise and know-how in AI will help the NetApp reseller network to grow in this market."
The distribution agreement will see PNY handle NetApp solutions in the UK, France, Germany, Sweden, Spain, the Netherlands, Austria, Switzerland and Italy. PNY is headquartered in New Jersey, the US; Bordeaux, France and Dubai, the UAE.