Submitted by Carl Friedmann on October 20, 2021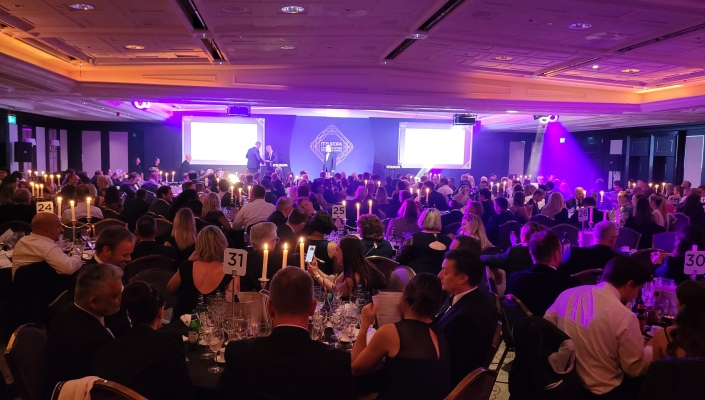 In a spirited atmosphere made up of equal parts excitement to be back in person and anticipation of walking away with an Award, the European IT & Software Excellence Awards, held at the Royal Lancaster in West London last night, celebrated those dedicated to advancing the industry through innovation and dedication.
Now in its 12th year, these Awards are the benchmark of industry excellence. From categories detailing remote working solutions and solution providers, to application developer & ISVs and suppliers, it was an event to remember. It was also a reminder for all those in attendance the important work done, and how to use being shortlisted or declared a winner as a springboard for greater progress.
European IT & Software Excellence Awards winners
Big Data, IoT or Analytics Solution of the Year
Winner: PureClarity
Highly Commended: Tech Mahindra
Connected/Mobility Solution of the Year
Winner: Lookout
Highly Commended: Cisilion
Data Solution of the Year (covering Data centre/ data management/storage/backup)
Winner: Pluribus Networks 
Highly Commended: Datactics
Enterprise (Cloud) Solution of the Year
Winner: Telefonica Tech
Highly Commended: Version 1
Enterprise (on-prem/hybrid) Solution of the Year
Winner: IBA Group
Highly Commended: 123 Insight Limited
Managed Service Project of the Year
Winner: Vision
Highly Commended: Concept IT Services
Managed Service Solution of the Year
Winner: Assembly Managed Services
Highly Commended: Calligo
Innovating Managed Service Solution of the Year
Winner: T-Tech
Highly Commended: 4net Technologies
Public Sector or Utilities Solution of the Year
Winner: SCC
Highly Commended: Content Guru
Security Solution of the Year
Winner: Northdoor plc
Highly Commended: SoftCat
SME (Cloud or SaaS) Solution of the Year
Winner: Bluegrass Group
Highly Commended: 2Checkout
SME (on-prem/hybrid) Solution of the Year
Winner: INFINITY IT Solutions
Highly Commended: JETCAM International
Vertical Application Solution of the Year
Winner: Content Guru
Highly Commended: Business Systems
Innovating Technology Solution of the Year
Winner: BP3 in Partnership with Automation Anywhere
Highly Commended: Scale Computing
SaaS SMB Solution of the Year
Winner: HBXL Building Software
Highly Commended: Integro Construction Software
SaaS Enterprise Solution of the Year
Winner: Carbonite, an OpenText company
Highly Commended: Strands
Software Innovation Solution of the Year
Winner: SOTI
Highly Commended: Schneider Electric
Vertical Market Solution of the Year
Winner: SAS Global Communications
Highly Commended: Cybertill
Channel Programme of the Year
Winner: Acronis
Highly Commended: ConnectWise 
Cloud Vendor of the Year
Winner: Oracle
Highly Commended: UK Cloud
Connected Technology Vendor of the Year
Winner: RingCentral
Highly Commended: Verizon
Distributor of the Year (Under €500m Global Sales)
Winner: e92plus
Highly Commended: intY
Distributor of the Year (Over €500m Global Sales)
Winner: Tech Data
Highly Commended: Exclusive Networks
Most Effective Channel Marketing Activity of the Year
Winner: datto  
Highly Commended: Kaspersky
Security Vendor of the Year
Winner: Sophos
Highly Commended: Watchguard Technologies
Service Provider of the Year
Winner: N-Able
Highly Commended: Agilitas IT Solutions
Software Vendor of the Year
Winner: ConnectWise
Highly Commended: Veeam
Technology Vendor of the Year
Winner: Kaseya
Highly Commended: Pure Storage
Best Customer Engagement Model Building
Winner: Redstor
Highly Commended: Giacom
Best New Business Solution introduced since February 2020
Winner: Pax8
Highly Commended: Relltek
Best Remote Working Support Solution
Winner: Intersys
Highly Commended: Infinity Group
Innovative Crisis Management
Winner: BJSS & Goal Group
Highly Commended: Ninja RMM
Most effective remote management solution
Winner: Disruptive Technologies
Highly Commended: Park Place Technologies