Submitted by Carl Friedmann on October 21, 2021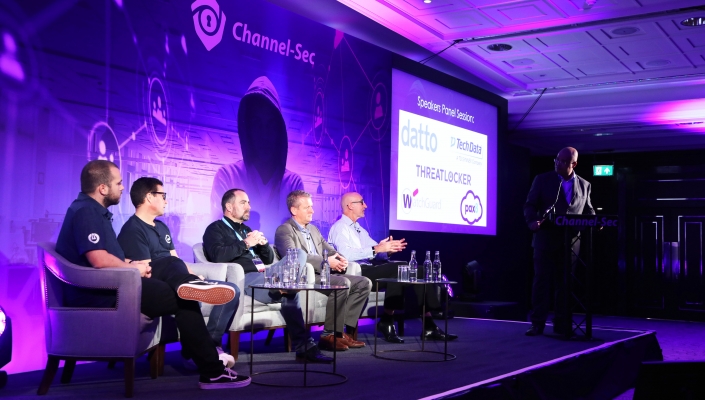 Channel-Sec, a premier forum to consolidate strategies and initiatives to adapt to the changing nature of the cyber threat landscape, was held at the Royal Lancaster Hotel in west London on October 19.
It's imperative that IT channels of all types, including service providers, rethink their strategies in the face of rising and changing threats to their customers. In their search for guidance on how to keep customers informed, and how to build partnerships to start security business, Channel-Sec gathers leaders in the field to promote best practices.
Security is a fast-developing discipline and while some channels are looking for a particular solution to address key vertical market compliance models, others would like to join an eco-system with like-minded partners. Catering to these varying approaches, Channel-Sec outlined a comprehensive agenda with several panel discussions, keynote addresses and networking opportunities.
The first keynote address was from cyber security expert Charlie Mcmurdie, who served as Scotland Yard's head of economic and cyber crime. In her talk, she spoke about how the sophistication of cyber crime has evolved, as well as the current and most urgent needs of SMBs to consider to remain vigilant, citing some alarming stats like the 2020 global cyber skills shortage was estimated at over four million, by 2025 cyber crime is estimated to cost £12 trillion annually, and that an attacker resides in a network on average of 146 days before detection.
The other keynote was from Jessica Figueras, vice chairman of the UK Cyber Security Council. She works with start-ups and scale-ups on growth strategy, and advises UK Government on technology and policy issues relating to security. She also spoke about today's skills issues in cyber and how worldwide cyber trends are changing skill requirements, and how MSPs can get involved.
Other speakers included Ben Jenkins, senior solutions engineer at ThreatLocker, Jonathan Whitley, regional VP – Northern Europe at WatchGuard technologies, Greg Jones, business development director, EMEA, at datto, Chip Bieler, channel director at Egnyte, Phylip Morgan, chief channel officer at Pax8, and David Ellis, VP security and mobility solutions - Europe at Tech Data.
Key sponsors were Datto, ThreatLocker, Pax8, IT Glue, RapidFire Tools, Kaseya, ID Agent, WatchGuard, Webroot+Carbonite, ConnectWise, Egnyte, Tech Data, Sophos, Vipre Security, LastPass by LogMeIn, Acronis and Cofense.
Look out on the Channel-Sec website for video interviews with speakers and sponsors, which will be live soon.