Submitted by Carl Friedmann on November 12, 2021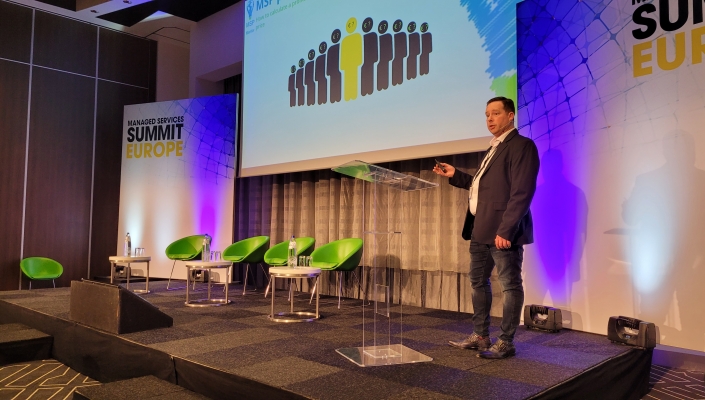 Following the lunch break, MSP Mentor's Johan Bakker (pictured) delivered his keynote address. For nearly 25 years, Bakker has been active with the IT space and MSP business field, managing, consulting and owning companies to help IT companies capitalise on his experience. In his talk, he emphasised the importance and benefits of moving from break-fix to managed. "You have better control of the infrastructure of your customers because they're paying a subscription and you know what they have; you can manage that," he says, so issues don't become fires to put out every time. You can see the fire being built before it gets lit so it's about being more preventative. Of course, he added, the customer always needs security, but it shouldn't be the onus of the customer to ask what the best approach is. Bakker also emphasised the constant ways he's looking to automate. "You can optimise every department," he says, but automation takes time, and it has to make sense. "If it's not meaningful, then skip it." And when Lars Sudmann in his morning keynote mentioned to think inside the box, Bakker emphasised thinking outside the manual and to focus on being productive instead of busy.
A handful of rapid-fire talks followed from Raymond Parkinson, manager international sales EMEA at ConnectWise; Mathieu Correard, pre-sales manager at Centreon; and Romain Favraud, channel pre-sales engineer at Vade. Then Parkinson, Correard, Favraud came back on stage for a panel discussion with Bitdefender product manager Arnold Kok to discuss a range of topics from security to hybrid working. "In the battle of cybersecurity, there is no winner but there are a lot of casualties," said Kok.
After some coffee, pastries and networking, Danielle Meulenberg, channel account executive MSP Western Europe at Sophos spoke about the benefits of offering full cybersecurity services and a SOC. Following her was Wim van Laarhoven, systems engineer Northern Europe at Cradlepoint, part of the Ericsson Group. Here, he spoke about reasons to choose wireless WAN.
Back to the stage in the penultimate panel was Meulenberg, van Laarhoven and Julian Sinnige Benelux, country manager, Westbase.io, who discussed security as a service as a growing trend. And to wrap up the day looking ahead to 2022, MSPs assembled for the Big Debate panel, consisting of Bakker, Wayne Wilson from Wanbound, and Steven de Graaf from IPknowledge BV. This lively discussion covered the evolving relationships between partners and vendors and the ramping up of automation. "We're heavily investing in automation," said Wilson, as well as semi-automation features. There was also the weighty topic of recruitment and retention, especially over the past 20 months. Wilson also said that Wanbound is equally investing in staff. "We invest to make sure we have a team," he added, saying it's not just about the money investment in team cohesion. People still have to have fun. "If money is the only thing you're going for, then that's your situation and it's okay," said Bakker. "But if you're doing a lot of interesting stuff with your colleagues, then it's going to feel like family and you're not going to betray your family for money."