Last updated:
March 15, 2019
3 minutes read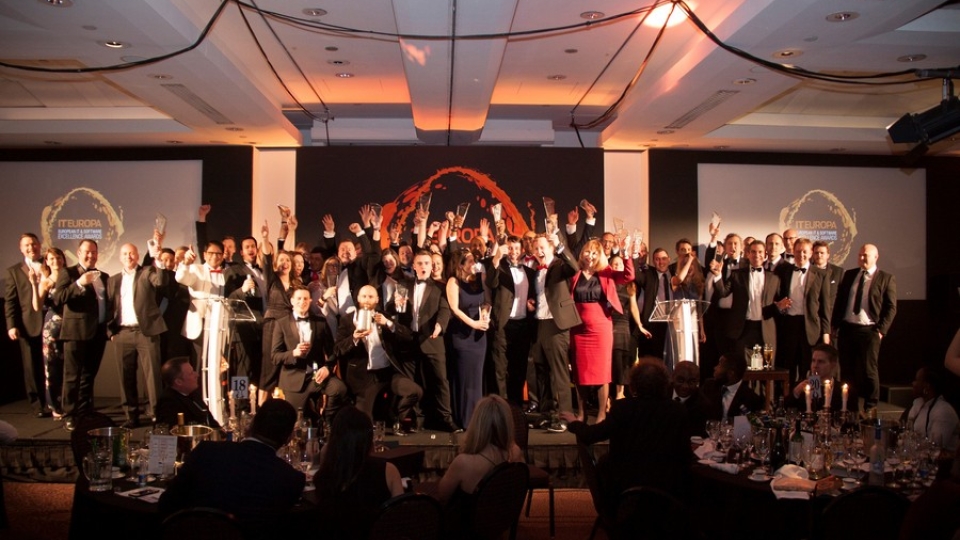 The winners in the European IT & Software Excellence Awards 2019 (www.iteawards.com) - the leading pan-European awards for resellers, ISVs, Solution Providers and Systems Integrators and their vendor and distributor partners – have been revealed at a gala dinner in London on 14 March.
"This was a record year – both in the quality and number of entries," says John Garratt, Editor of IT Europa and head of the judges' panel. "It was particularly interesting to see the numbers really tick up in the innovation categories. There is a lot of new thinking being done as to how technology can make a real difference, and it is happening right across Europe."
Entries were received from companies of all types and sizes, and with a geographic spread from Russia, Belarus and Turkey to the Nordics and Ireland. Germany fielded a particularly strong year with a variety of solutions; the Balkans shows their usual strengths, especially in public sector projects.
Now in their eleventh year, the European IT & Software Excellence Awards 2019 attracted more than 500 entries. The awards were given for IT solutions that get to the heart of customer issues, delivering better business, a clearer understanding of data, and more efficient and profitable outcomes.
The judges, with many decades of experience of IT industry involvement between them, have arrived at a list of winners that they believe truly reflects both the strength of Europe's IT industry and many of the changes in direction occurring within it.
Photos from the night are here: 
The categories and winners:
WINNERS 2019
Solution Providers 2019
Big Data, IoT or Analytics Solution of the Year                                  - IBA Group
Connected/Mobility Solution of the Year                                           - Infinity IT Solutions
Data Solution of the Year                                                                - Econocom Italia
Enterprise (Cloud) Solution of the Year                                             - CANCOM
Enterprise (on-prem/hybrid) Solution of the Year                                - Cisilion
SME (Cloud or SaaS) Solution of the Year                                        - Utilize Plc
SME (on-prem/hybrid) Solution of the Year                                       - 123 Insight Limited
Managed Service Solution of the Year                                              - Intersys Ltd
Innovating Managed Service Solution of the Year                               - Corbel Solutions Ltd
Vertical Application Solution of the Year                                           - Content Guru
Public Sector or Utilities Solution of the Year                                    - LIFE IS HARD SA
Security Solution of the Year                                                           - RapidFire Tools
ISVs 2019
Connected/Mobility Application Solution of the Year                          - bibimoney Global Ltd
Data, Information or Management or Analytics Solution of the Year    - MarkLogic
Innovating Technology Solution of the Year                                       - Singlepoint
SaaS SMB Solution of the Year                                                      - Datto EMEA
SaaS Enterprise Solution of the Year                                              - CloudHealth by VMware
Software Innovation Solution of the Year                                          - Sequel Business Solutions
Vertical Market Solution of the Year                                                - Cybertill
Suppliers 2019
Software Vendor of the Year                                                           - Microsoft
Technology Vendor of the Year                                                       - HPE
Service Provider of the Year                                                           - Agilitas IT Solutions
Connected Technologies Vendor of the Year                                    - Cisco
Security Vendor of the Year                                                           - Barracuda MSP
Channel Programme of the Year                                                    - ConnectWise
Finance/ Support Services Provider of the Year                               - Dell Financial Services
Cloud Vendor of the Year                                                              - Microsoft    
Distributor of the Year (Over £500m Global Sales)                           - Tech Data
Distributor of the Year (Under £500m Global Sales)                         - intY
Most Effective Channel Marketing Activity of the Year                      - Datto EMEA