Submitted by John Garratt on January 14, 2021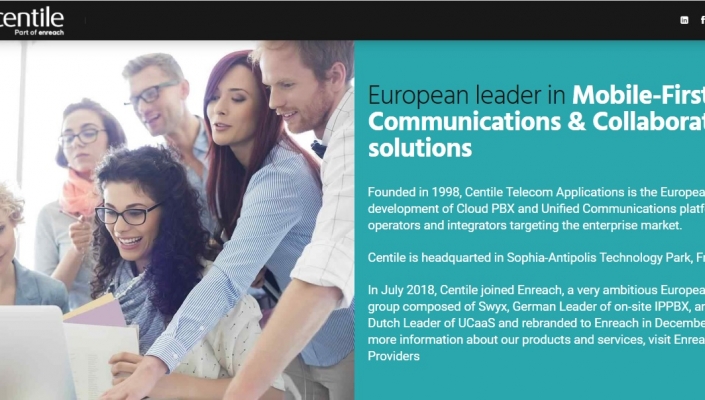 Enreach, the European unified communications group, has rebranded France-based company Centile Telecom Applications as Enreach,  aiming to strengthening the group's commitment to the service provider business. Centile's unified communications (UC) platform is a core part of Enreach's ambition to be a Unified Communications as a Service (UCaaS) leader. Via a diverse reseller and service provider ecosystem, Enreach offers fixed-mobile convergence (FMC) and ICT services for businesses of all sizes.
From today, Centile will use the commercial name of Enreach for Service Providers. Based in Sophia-Antipolis, France, Centile is a European specialist in the development of Cloud PBX and unified communications platforms for operators and integrators and says its ISTRA platform is deployed by over 100 service providers in more than 20 countries and currently has about one million users. 
Stijn Nijhuis, CEO of Enreach said, "Today we celebrate Centile becoming Enreach, one more milestone in our journey to become Europe's UCaaS leader. Centile has established an excellent reputation for its flexible unified communications platform, which has attracted partners and customers across Europe and beyond. As the main software-driven part of Enreach, Enreach for Service Providers will be at the forefront of technology developments and R&D involvement for the entire Enreach group, from which existing customers will benefit."
Bertrand Pourcelot, Managing Director at Enreach for Service Providers, said: "With this rebranding, we welcome Centile becoming even more integrated within Enreach, as part of our shared, synergised growth journey. Since its inception, Centile has been a pioneer in unified communications. As Enreach, we can further accelerate innovation from which our service providers partners will benefit, as well as being associated with this stronger, unified brand."