Submitted by Carl Friedmann on November 12, 2021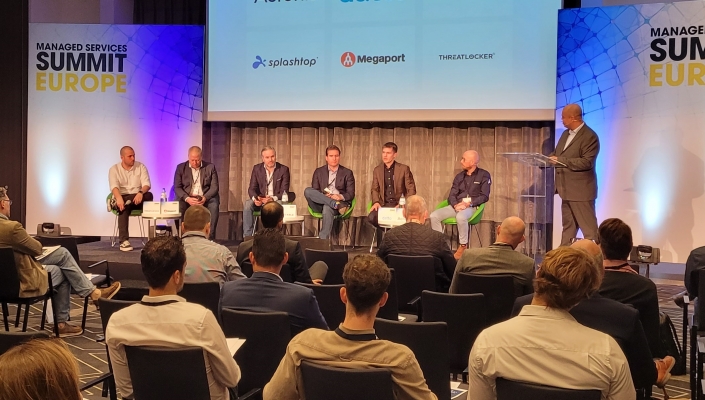 We're about a third of the way through the Managed Services Summit Europe at the Novotel Amsterdam City, just outside of the city centre, and already we've heard some insightful talks and panel discussions including those from Björn Leenen, senior solutions engineer at Datto, Floris van Miert, strategic partner manager at Acronis, and Stefan Kremer, sales manager EMEA at N-Able. Earlier in the morning was also the first keynote address from Lars Sudmann, owner of management consultancy Sudmann & Company. He went into detail about navigating the evolving unknowns across organisations through steps including thinking 'inside' the box and establishing your own organisational 'test kitchen' in order to provide a department for failure, which is a key ingredient to promote innovation. Sudmann also detailed throwing those ideas and discoveries at the wall to see if they stick in what he calls the 'Spaghetti Principle'. He certainly managed to pack a lot into his half-hour time slot including the opportunity for the nearly 100 delegates to take a moment to reflect by writing down a few thoughts on the past 20 months, and if predictions in everyone's business were accurate as the first rumblings of the pandemic were first felt. After all, he said, if you must panic, panic early.
Then was the first panel debate with Leenen, van Miert and Jeroen Den Haan, sales director at N-Able. Here, we kicked off with lessons learned, and lessons still learning, over the past year. Leenen mentioned that there was a need to change strategies since things that used to work didn't work anymore. Den Haan spoke for many when he added that having to work from home was a massive change, and what he found out was that it all came down to trust, and once that is established, people will do the right thing.
Adapting approaches in terms of customer needs, van Miert said that once people scattered from the office and started working remotely, he saw a lot of corporates used bad VPN connections, and security became a big issue. But companies realised they were more flexible and resilient than they thought they were, despite ransomware attacks still posing a threat. "Firewalls of the office usually protected people," he said, "you need a functioning toolset."