Submitted by Antony Savvas on October 6, 2022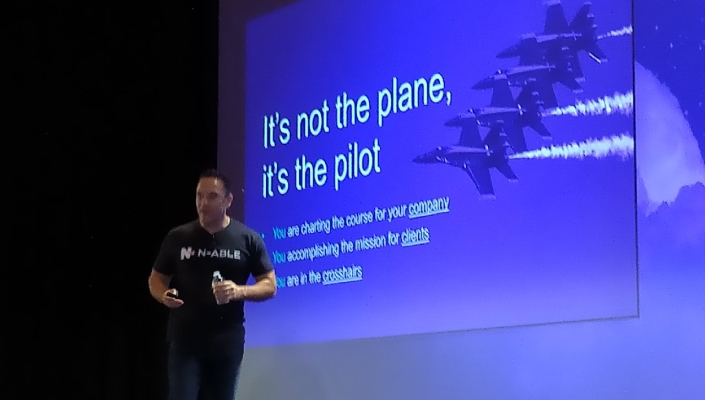 MSP technology provider N-able held its global Empower partners event this week. The Las Vegas conference at Caesar's Forum was attended by around 500 MSPs, technology partners and end-customers, and IT Europa was invited along to measure the mood in the market.
For its part, N-able was understandably positive following recently posted quarterly results, which showed steady business growth in both sales and profits, with a company outlook that was also positive for the full-year.
And that outlook still stands as far as N-able CEO John Pagliuca (pictured) is concerned, who said his company was part of an industry that was still thriving. He told Empower delegates: "No industry is recession-proof but the MSP industry is recession-resilient. Wall Street has upgraded our industry from the 'golden era' to the 'platinum era'."
So what has helped the industry get to this stage? Obviously the move to the cloud has been the main driver over the years, with companies of all sizes choosing to get third parties to support their systems and operations through the cloud.
In addition however, there are two other pertinent drivers. And according to Pagliuca they are the increasing number of sophisticated security threats, and the ongoing skills shortage, continuing to be fuelled by the more recent Great Resignation in the midst of the pandemic.
"We have to turn these headwinds into tailwinds," he said. "The favourite name on the IT staff board is 'TBH – to be hired'. This has led to contract values going up for those MSPs targeting mid- to large-sized enterprises.
"Labour scarcity is a tailwind for MSPs – they have to adopt it and take advantage of it."
On security, He said: "Even the best pilot needs a wing man, and since the 2016 global WannaCry ransomware attack, security offerings have benefited from a big tailwind."
After other keynotes, the delegates were given the mic to ask their own questions, and a couple of them were certainly on the mark.
One asked the N-able execs: "How about third-party risk, if your products fail, we are responsible for our customers – we're stuck in the middle, what can be done to share risk?"
That question has been on the lips of many since N-able rival Kaseya suffered a damaging attack on its systems last year, which led to its MSP customers distributing ransomware to their end-customers. And that attack was proceeded by the one on N-able's previous owner SolarWinds in 2020, which saw spyware distributed to governmental and private companies.
N-able (previously known as SolarWinds MSP) was spun out of the SolarWinds company, and went public with its own listing in 2021.
N-able chief security officer Dave MacKinnon acknowledged to the audience that his firm had to identify threats before it was affected, and also added that N-able "often fixed things without notice" among the MSP community.
Another delegate asked about "liability" when it came to attacks. MacKinnon said that cyber insurance was "key". He said: "We have it and it was expensive this year, much more than last year, and a pain to get."
But he also warned that sometimes the source of problems can sometimes be muddied. He said: "We had an issue with one MSP who came to us and blamed us for a security problem. We checked our logs and theirs and discovered it came through their VoIP system, which obviously wasn't down to us."
He added: "We are very keen to help any customers who need assistance. But it can be a problem when they are only speaking back and not hearing, and making assumptions when incidents happen."
More coverage from the event will follow this story.