Submitted by John Garratt on September 23, 2020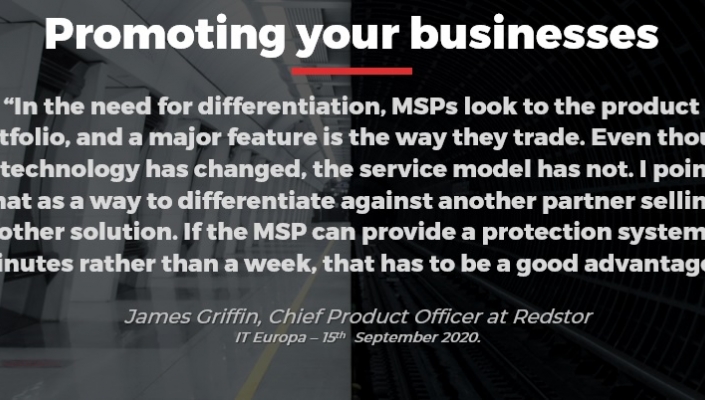 Redstor is investing a seven-figure sum in its e-commerce-based platform for MSPs to make their sales and management of solutions a lot faster, and more was promised this week.  
It is all about following the data, says James Griffin, Chief Product Officer at Redstor. "All our partners are different and they all different types of customers. A lot of the small business that used to have servers have gone to SaaS, so to help partners with this, we need to work with more SaaS apps," he told MSPs on this week's virtual webinar on its new Marketplace platform. He also revealed the direction of its further investments which are very relevant to partners.  
"It is moving very fast – in the last few weeks, we have launched improved support for Google Docs, support for Google Cloudstream, and Xero. We are looking at all the processes in the smaller business – the finance hence Xero and possibly Intuit, HR and CRM areas where we will add more SaaS over the months," he told the online meeting.
"For the partners working in cloud and with larger organisations – it is also straightforward – we will build cloud-native support that works, not instead of the native tools, but alongside them, in Azure, AWS and Google Cloud." And Redstor will have support for the newer technologies, like Kubernetes shortly, and it is are actively working on those.
It is about following opportunities into uncompetitive space for Redstor partners: "We are a data management company and that means making data management smarter. So we have just invested another seven figure plus sum into an AI/machine learning team to bring to market revenue opportunities for partners."
The first of these will be an AI-based anti-malware solution that detects patterns in files, so that malware in backups is detected. And it is all coming out at a rapid pace, he adds: "We will make sure that partners have the tools to sell and benefit from these additions. It is very exciting. Our mantra is that we are not about building technology for its own sakes – it is about collectively capturing the opportunity with our partners."
Download the webinar recording here