Submitted by Antony Savvas on March 2, 2023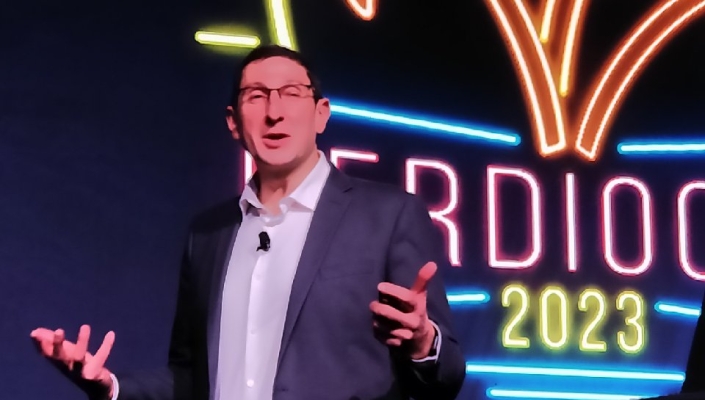 With $125m of total funding in its back pocket to aid expansion, the arguably oddly-named Nerdio is certainly making tracks in the MSP and enterprise cloud deployment services space.
At the firm's annual NerdioCon event for customers and partners, held in Cancun, Mexico, IT Europa sat down with the company's CEO to find out how it intended to grow its channel.
But first, how about that name? When I told various other people in the technology industry that I was travelling to Mexico to see a company called Nerdio, they thought I was making it up.
Says CEO Vadim Vladimirskiy (pictured): "I don't take offence, far from it, anyone attending this conference in Cancun will never forget which company they were with when they were here. And in the technology community, including lots of developers, plenty take the name as a badge of honour.
"We used to run an MSP ourselves and ran something called Project Nerdio, which is where the name actually comes from, but we sold off the MSP business and kept the name to do this instead, and serve the Microsoft cloud deployment needs of MSPs."
Nerds of course, are among the richest people on the planet, so who am I to criticise?
And what about the Microsoft specialism that Nerdio focuses on – Microsoft Azure, Azure Virtual Desktop, Windows 365 and now Intune and Windows Defender – will that change by supporting the deployment of other cloud suites from the likes of Amazon Web Services, Google, Oracle and IBM, for instance?
"We always keep our eyes on opportunities, but we are hyper-local to the needs of MSPs, and most of them, from our experience, are already Microsoft partners. Many of them were Microsoft value added resellers before converting into MSPs and selling Microsoft cloud services, like Microsoft 365."
"The market where we operate will dictate which products we support. Around $100m of revenue going through the Azure channel is touched by us. It's not our revenue but we help generate it with the services we provide to MSPs."
Vladimirskiy says the main focus for Nerdio at the moment is to firm up the company's efforts in the Intune endpoint management and Windows Defender security deployment spaces, which was a running theme during the conference.
The provider is proffering various packages designed to make it easier for MSPs to expand their Nerdio footprint, and make it easier for end customers to adopt those technologies, while upping partner revenues.
"Do we get asked by people if we intend to support certain Amazon technologies, yes, or Google Cloud Platform ones, certainly not at the moment, but our focus now is Microsoft as that is where most of the MSP market is."
The likes of Pax8, Kaseya, ConnectWise, N-able and IGEL are all enthusiastic Nerdio partners, who all now specialise in MSP solutions. So isn't it surprising they come to Nerdio for Microsoft cloud deployment services for their clients?
"All these partners talk about supporting cloud adoption but they don't necessarily talk about Microsoft Azure specifically, which is a further illustration as to why we do.
"Some of those names have concentrated on building out their data security and data management offerings, but we've concentrated on Microsoft services deployment."
So, it's fair to sum up...why change something that seems to be working?