Submitted by Islam Soliman on January 20, 2022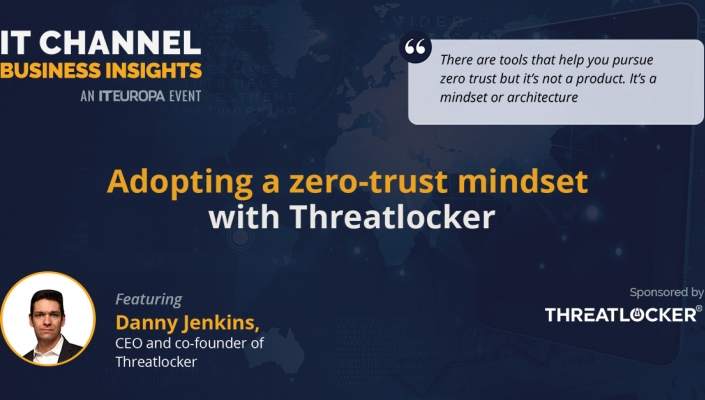 During his discussion with IT Europa Editor Carl Friedmann in the latest instalment of IT Europa Business Insights, Danny Jenkins, CEO and co-founder of Threatlocker, the endpoint security expert, emphasises how important it is to adopt a zero-trust frame of mind.
Hybrid working has certainly accelerated the need for more effective measures to reduce weak defences, and Jenkins emphasises, ahead of the Zero Trust World event in Orlando from February 21-23, that a zero-trust frame of mind will minimise risks. But constant vigilance and streamlining are key. For instance, not all apps need access data. "If you can compartmentalise apps and stop them from talking amongst each other, you massively reduce your vulnerability to attack," he says. "There are tools that help you pursue zero trust but it's not a product. It's a mindset or architecture. We're able to take away a lot of the risk of unknown malware, or even the legitimately good tools being used against you. Once an app is running, we're able to ringfence it."
The Zero Trust World event will once again be an overall forum to educate people about security and how zero trust can reduce risk and the probabilities of ransomware and cyber breaches. The main stage will be the focal point with top-tier keynote addresses from security experts at the NSA and JetBlue. In between, there will be several breakout sessions with other great speakers, virtual demos and networking events including on-site labs filled with computers to simulate writing malware and how to thwart them.
Away from the demos and keynotes is the business track, which gears to MSPs who want to figure out how to grow a business with security front of mind. This will offer a big opportunity to learn how to sell security, maximise the potential of service and articulate to customers why zero trust is not only important but a means to facilitate better, more efficient and cost-effective service.
"It's important for people to attend because security threats are increasing, irrespective of a pandemic," adds Jenkins. "It's increasing because people can make a lot of money out of it, so stepping up security is the answer to meet emerging threats head on. The more we collaborate the better we are as a society."
For more detail about Threatlocker and Zero Trust World in Orlando, click here to listen to latest IT Europa Business Insights discussion.