Submitted by John Garratt on November 25, 2019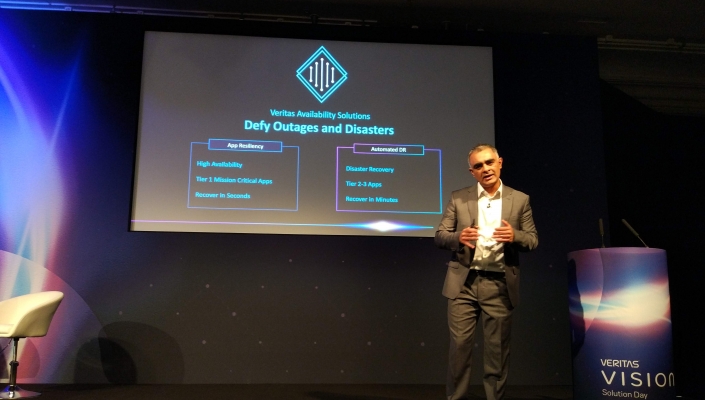 Veritas Technologies is continuing its approach to the enterprise, using its size and experience to follow tech and security market changes, and aims to establish its integrated Enterprise Data Services Platform as the effective solution to cloud and unstructured data management. 
At its London event Veritas Vision last week, it attracted several hundred (mainly customers) to a solution day where CEO Greg Hughes set out its position of engaging with the largest enterprises, getting them onto its platform and then using its tools to abstract the huge amount of data most are dealing with.
A recent survey commissioned by Veritas on the challenges of cloud data management, reiterate the industry's shift toward cloud. The research found 47% of respondents characterise their company's current infrastructure state as an even split between the public cloud and the data centre. However, more than 70% indicate their desired end state is to run most or all of their applications on public cloud infrastructure.
The increasingly distributed nature of IT systems is likely one major reason many companies are also increasing their investment in the technology used to protect and secure them.
Nearly 70% have allocated budget to purchase new solutions to address cloud data protection in the next 12 months, it found, and a majority expect their budget for backup and recovery to increase substantially over the next three years. However, where respondents had responsibility over both on-premises and cloud-based workloads, almost half would rather do so with a single backup solution.
And they have a range of solutions to choose from, but Head of Technology UK&​I Jasmit Sagoo (pictured) talking to IT Europa afterwards, called out its recently-arrived competition as late-comers to the party. "Customers come here for ideas around innovation as change is difficult, especially for data. They are trying to plan for deployment later on – the questions are all around the options and how they can be implemented."
And the start-up vendors coming into the market? "I'm concerned about the disruption the start-ups can have on our customers - sometimes how they waste customers' time, only for the customers to come back to us saying it didn't work in their use-case. What I try to educate customers on is to plan ahead and not focus on specific use cases. That is why we have these events – to give them a window on what is coming, so they can plan ahead."   
The Veritas platform is very focused on larger enterprises, he says. "Just as innovations in cars tend to come down from formula 1 – it is the same in technologies which seep down. This is what we do when we work with our platforms. We release innovations to a couple of large enterprises who have the largest workloads and biggest challenges. We work with them; it is important for everyone because they want to be seen as innovating, and we need to have their insights from reality. Working together, we perfect how we address issues and then we release some of the innovations to the broader market."
This covers the partners, channels and mid-market, he says. "Yes we are addressing the larger organisation market, but we are also talking to the other groups and channels. We are making sure we can address a very broad set of requirements."
"The partners are very excited about the opportunity for them – it is all about how they can grow and be supported. So when they see a broad number of use cases and the innovation from Veritas Technologies, they can see it not just data platforms, but compliance, availability etc. so it gives our partners a lot to talk about and a lot of value to communicate. We will continue to work with partners and I intend to make sure the partners are technically enabled, but also able to install and deliver the new ways to deploy solutions. Automation is the key topic in 2020 and my teams are all focused on enabling partners to deliver automation. We are going to help our customers adapt with change and will deliver the services which are independent and decoupled from infrastructure, operating system or whatever."
The mid-market also has large workloads, but increasingly they have distributed workloads as they are faster, he says, at getting using cloud and at adopting new technologies.
"Our approach is to make sure we can address them, in the cloud, on prem or hybrid. We will make sure we can simplify their data management. Otherwise there will be solutions for Azure, office 365, AWS and what happens is complex with data in public cloud, private cloud wherever and yet they all want one view."
"The advantage we have is thirty years of history, and on top of that we are really focused on solving the data management conundrum; we are not doing many other things, just data management. Having that allows us to cope with the pace and demand of change."
The message is "abstraction in data" which is similar to not having to worry about the technology in a phone. "What I am trying to explain to my customers is to not worry about de-duping or change block-tracking in backup. We do that behind the scenes, all they need is to know that we are protecting their data. Some of the mature customers are starting to understand that. They then focus on their business decisions."
The questions in their minds are 'Can you protect our data in the cloud?' and 'How quickly can you start this?' A lot of this stems from a move to the cloud and then customers realise their data is not protected.  
Data platform implies covering all the tasks. "We have that – even containers where we have solutions in use already by customers. The data classification engine is next – so this where we provide additional business value. Organisations try to understand where their data is – and the backup engine can show a picture of the data and its forms."
He thinks Veritas Technologies is well-placed to win in this market: "If someone has been protecting your data for 30 years and supported you through disasters, they tend to be trusted. Our customers are part of the family and completely trust us. Our new customers are coming from new organisations that are diversifying and have a new business model. They have a new division, perhaps with customers they didn't have before. With these new business ventures, we see customers with third party technologies whose operations are getting more complex, using SaaS  and moving to the cloud. They realise that without a strategy they end up with three/four/five data management tools and they look at the market and look for a vendor that can address all these use cases. That is the other part where we are seeing new customers come from," he concludes.