Submitted by Islam Soliman on May 24, 2022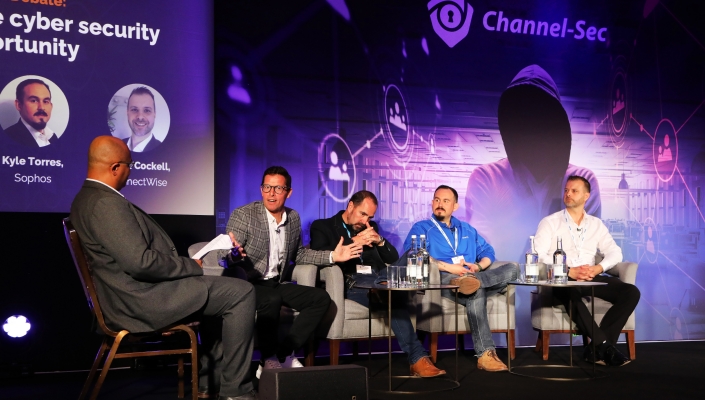 Channel-Sec, IT Europa's high-level conference and networking event, drew to a close last week at the Royal Lancaster Hotel in London, concluding a day of focused conversation around the challenges and opportunities in the IT channel. The event saw multiple delegates turn up for the day to listen to the keynotes and panel debates, following the world's re-emergence from its pandemic hibernation. 
The pandemic was a major theme in the opening keynote titled: "Post pandemic opportunities for transformation of business strategies and business models," delivered by Roger Flynn, a recognised media and tech CEO and Chair and expert in transformational change. Although the pandemic impacted every aspect of businesses worldwide, the themes raised during the keynote served as a key reminder that it was a catalyst for firms to think out of the box and change operations to seize new business opportunities.
In his keynote presentation, Flynn provided direct advice to help organisations achieve business growth and differentiate their business from the competition. Like all businesses with an ambition to grow during today's post-pandemic working arrangements, the IT channel is no different. According to Flynn, the key factor that enables technology firms such as MSPs, system integrators, resellers and ISVs to differentiate themselves is to deliver excellent customer experiences to service users. 
Among the several learnings that were also discussed during Flynn's keynote, one takeaway was clear: an organisation's culture is also integral to delivering business transformation. Flynn admitted changing an organisation's culture is one of the most difficult leadership challenges, but it should be deeply ingrained into business strategy. "If you don't focus on as much energy on culture, as you're focusing on the other two areas, you're going to be underpowered," Flynn said. After all, he should know how vital this is having delivered transformational change at firms like Virgin, British Airways, Prudential and the BBC working with thousands of staff and millions of customers. 
Following the opening keynote were a mix of panel discussions, MSP presentations and panel debates. The first was titled "How Zero Trust can help MSPs better protect clients," delivered by Ben Jenkins, director of cybersecurity at ThreatLocker. Then Ronan Short, MD at IT Support 4U delivered a session about why Zero Trust is a game-changer for Managed Security Services.  Shortly after his presentation, Phil Holmes, EMEA channel sales director & Guido Gerrits, EMEA channel director at Thales CPL, talked us through six ways to accelerate your XaaS revenues, followed by many other insightful sessions before lunch.  
After the lunch break, IDC's Rory Duncan, who followed Flynn as the second keynote speaker of the day, graced the stage to deliver a keynote about cloud migration and lingering impediments and the top five reasons why security players play a big part in this. He started off the session by talking about how the two-year disruption caused by Covid, along with the continuing war in Ukraine, has triggered a rise in the number of cybersecurity attacks, with the cloud often perceived as the top threat if managed externally. 
He then provided insights into how cloud insecurity is interlinked with the minds of the IT buyer, whether it is real or not, whether it's a perceived issue or whether it's a threat that they think may happen. During the sessions, he said that the cloud pie is getting bigger, with more companies buying infrastructure and cloud services and storing data in the public cloud, adding that the only area losing out is anything that's non-cloud.
After a short networking break, IT Naturally CEO Julie Bishop was greeted with a warm ovation when she came out onto the stage to deliver the third keynote to round off the afternoon. In her keynote presentation, the former head of IT at British Airways outlined how her company, IT Naturally, became carbon neutral and how its journey to B Corp is currently going. By adhering to B Corp standards, Bishop said IT Naturally has been able to improve its social mission of transforming the global economy to benefit all people, communities, and the planet while also scaling the business. 
"We've been working with IT Europa for a few years now. The events are always quality, and as a sponsor, we have had a great time," said Kyle Torres, channel account executive at Sophos. "The content today has been amazing; they kicked it off with us talking about ZTNA, which is very topical and very important. There has been a good mix of content and we have had some good conversations with attendees."
Ben Jenkins, director of cybersecurity at Threatlocker, aligned himself with the sentiments conveyed by Torres in asserting that this year's Channel-Sec has been a great experience for both sponsors and the attendees. "We've had great conversations with a ton of MSPs, it been really helpful from our standpoint," he said. "The MSPs and groups that attend these events have a strong understanding of cybersecurity. It's been great."
The next event in the IT Europa series of channel events – Managed Services Summit is being staged regionally – register here to attend.