Submitted by Islam Soliman on July 3, 2023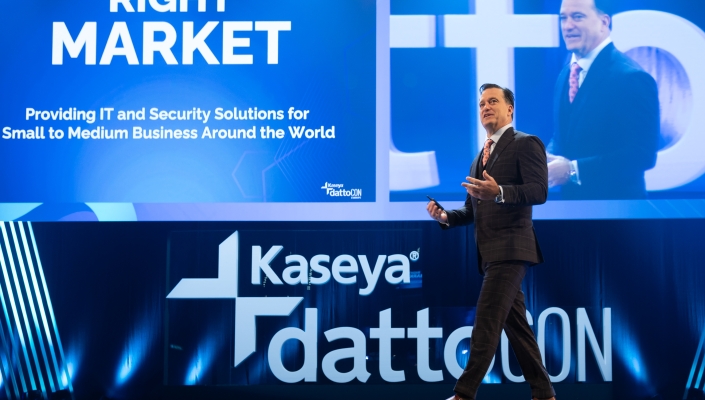 Kaseya CEO talks expansion, exceeding competitors with over 30% organic growth, and its hiring plans
Despite some bumps in the road after merging with Datto last year, Kaseya is experiencing "significant growth", according to CEO Fred Voccola (pictured).
He says the company boasts over 30% organic growth, a rate that significantly outpaces many competitors in the field.
Voccola singled out ConnectWise as a competitor lagging behind Kaseya's growth trajectory. Although ConnectWise, being a private entity, doesn't publicly disclose financial details, Voccola estimates its growth rate hovers between 9% and 14%. This is significantly lower than Kaseya's growth, he says. 
Voccola breaks it down: "We're a major player with a revenue of 2 billion and an EBITDA between 600 and 700 million. That's a lot; that's scale."
He remains confident that the business will continue to see growth despite numerous competitors vying for the same attention in the market.
"Our business is on a growth spurt and we're doing extremely well," he says. "We gained immense knowledge from Datto. The acquisition greatly enhanced our growth by making our IT Complete 2.0 platform, more complete.
"We have dramatically ramped up our team, adding more R&D staff and engineers, and considerably increased our investments, all dedicated to every aspect of Datto technology. It introduced us to excellent technology and a culture highly focused on MSPs," Voccola says, citing Kaseya's 'three pillars of culture' as another catalyst of its growth. 
Three pillars of culture
The first of the three pillars, he asserts, is customer centricity. "Every company decision must prioritize our customer's needs."
The second pillar is employee-centricity. "We nurture our employees by instilling a customer-first mindset and fostering their growth for making key decisions."
Lastly, he emphasizes the importance of innovation as the third pillar, defining it as "more than creating inventive technology. It entails discovering improved ways to operate."
Each of these three pillars helps the firm to achieve its overarching goal: "to make MSPs powered by Kasaya the best in the world," he says. 
Recruitment drive
To sustain this aim, he states, the company persists in globally hiring thousands, filling offices new and old, amid widespread layoffs elsewhere.
Kaseya is ambitiously planning to recruit 2,500 employees at its European offices over the next 18 months, as part of its expansion plan.
"We aim to bring on board thousands, quite literally thousands, right at this moment, and even more, if possible," Voccola says. 
He said the company's limits are not set by opportunities, but rather by ensuring the vendor doesn't bring in people who aren't the right fit. 
"It's crucial that we have people who share our customer-centric views and understand how important our customers are. We are not a technology, product, or sales company; we are fundamentally a customer company." 
On a global scale, the company has been strengthening its team with around 200 people each month.
"With approximately 35 to 40% of these additions in North America, 30% in Europe, and the remaining 10 to 15% dispersed across other regions," he adds.
With headquarters in Miami, Kaseya has offices in more than 20 countries around the world.