Submitted by John Garratt on September 15, 2020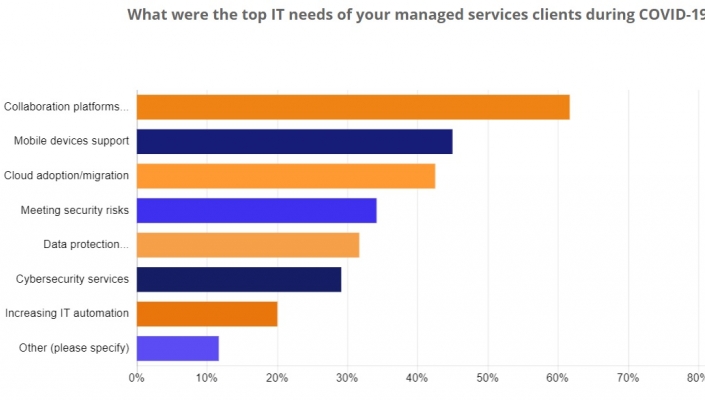 A global survey of nearly 200 MSPs by Altaro Software has found that around a third expect their business to stay the same in terms of sales and staff compared with pre-crisis levels. Just under a third expect a decline, with a over a quarter expecting an improvement.
MSPs seem to have resisted business pressures to lay off staff despite declining revenues and economic uncertainty during the COVID pandemic. Eight out of 10 MSPs said they did not lay off staff and those that did expect to rehire within six months, according to the Altaro survey.
Altaro Software, which supplies backup solutions conducted the survey to gauge the impact of COVID-19 on managed service providers (MSPs) and their response to the pandemic.
Although one-third of MSPs said they faced losses of up to 50% in the first half of 2020, 21% reported revenues increase of up to 25%, while 21% saw no change in revenues. "MSPs continue to show amazing resilience in the face of economic pressures and uncertainty. The demand for IT services continues to grow, especially for backup, and MSPs are making the most of these new opportunities. Challenges remain and their concerns are very real, however, their ability to adapt means the future looks good," said Stephen Chetcuti Bonavita, CCO at Altaro.
75% see remote working as best revenue-generator, with cloud a close second, but recovery plans are based on expanding products and services, says the survey, with over 60% choosing this option, with just under half expanding their market segment.
The biggest challenges they face are lack of business, managing their own time, changing techs and cybersecurity. One third see security-as-a-service as the best revenue-generating opportunity.
As work-from-home becomes the norm for many companies, collaboration platforms have become key, coupled with mobile device support, cloud and security. More than 75% said remote working is the best revenue-generating opportunity, followed by cloud computing (61%) and security as a service (38%).