Submitted by John Garratt on September 23, 2020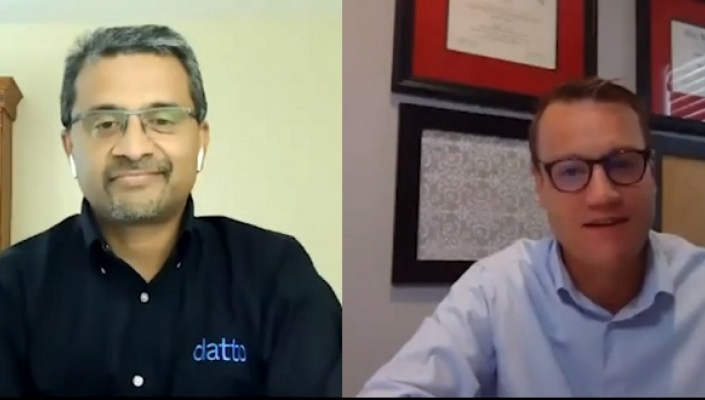 Microsoft is good at talking about products but needs the MSPs to provide the rest, says David Totten (on right in picture), CTO for Microsoft's US partners. He took part in Datto's recent global MSP Technology Day, recognising the importance of MSPs in 2020 as "the last mile" taking IT to SMBs.
He said in an online discussion with Radhesh Menon, Datto's CPO, that in 2020 SMBs are having to "do more with less" like never before, and that MSPs had expanded "exponentially in value and insights" to help SMBs prioritise their IT investments, with a rate of change as SMBs moved to remote working that had never been seen before.
SMBs are having to reinvent their business models, going faster to market with decisions, he said. "They have moved faster to adopt technologies simply because they have no other choice – they don't have the financial resources to rescue them."
There is a sweet spot between finding the right level of business innovation and keeping it easy to use – and that is what the MSP has to do and engage the customer with.
Microsoft sees the role of MSPs as vital as advisors to the SMB market based on customer needs, and MSPs have to make sense of it all.  MSPs looking at future proofing their offerings in September 2020 should look at work-from-home, keeping them secure and connected, and value by scaling cloud services so the SMBs are not working on internal processes as much; and connecting with and retaining customers.