Submitted by Islam Soliman on August 17, 2022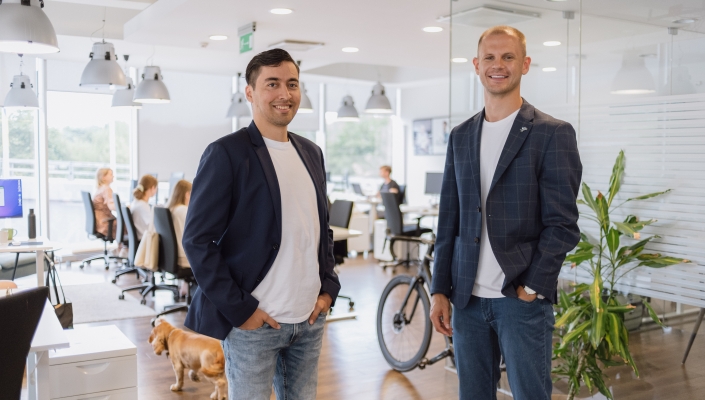 With the recent dramatic rise in remote work and the surge of cyber-attacks continuing to evolve, it's now more important than ever for organisations globally to rethink security. IT Europa spoke to Justas Morkunas, Head of Sales at NordLayer, and Carlos Salas, Engineering Manager at NordLayer, to discuss the benefits of Secure Access Service Edge (SASE) for today's distributed workforce, Nord Security's SASE offering and the future developments of SASE technologies.
With remote work being the norm for businesses globally, enterprise and SME networks are becoming more virtualized and distributed. How does SASE upgrade an organization's network architecture to meet remote working demands?
Carlos Salas: SASE, being a framework tailored for network security - but focused on adaptability and integration of cloud technologies - prepares organisations for making the jump from an at-the-office schema to either a fully remote workforce or, in most cases, a hybrid between remote and on-premises, without the need of sacrificing cybersecurity to achieve this.
Given the multiple benefits of SASE, why do you think it is the right time for organisations to implement SASE over other network security services such as Security Service Edge (SSE)? How do they compare side by side and what are their differences?
Carlos Salas: Given the changing times, implementing SASE is the way to go for organisations of any size and sector. Being secure from intrusions and keeping your organization's data safe is a must, but being flexible enough to tackle today's challenges - such as remote working - is equally important.
Both SSE and SASE implementations of Zero Trust Network Access (ZTNA) and end-user capabilities such as DNS filtering make it possible to securely integrate remote workers into the main organizational networks while maintaining a perfect balance between security and usability. Moreover, SASE implementation of Software-Defined Wide Area Network (SD-WAN) keeps the in-transit data secure, away from prying eyes.
Overall, implementing SASE helps organisations achieve security and remote access, while SSE focuses more on security.
Some of the larger companies are pursuing SASE including Cisco, Check Point Software, Cloudflare, Enea (Qosmos), Fortinet, and several other European firms. What's driving the SASE boom?
Justas Morkunas: In the industry, there's an urgency to change. It comes from a paradox — technology drives our lives by evolving at an immense pace, but legacy infrastructures are at technological stagnation. Network perimeter security is fundamentally built on hardware that is challenging to upgrade, hardly keeping up with the change. And in a world where the new normal is a constant, businesses cannot allow themselves to remain static and unprepared. At this point, the most convenient and rational approach is to transform legacy perimeters with cloud-native SaaS cybersecurity solutions.
The Global pandemic and a sudden migration to remote or hybrid work caught many businesses off-guard, so the SASE approach allowed them to reestablish comprehensive network security control considerably quickly, thus growing demand for it.
Do you think more cyber security start-ups in Europe will jump on the SASE bandwagon?
Justas Morkunas: Gartner projects 'cloud shift' acceleration in IT spending, as over 95% of virtual workload will depend on cloud-based platforms by 2025 — up 65% since 2021. In this regard, the SASE framework appeals to all kinds of IT security brands due to its agility and extensive use cases, so no doubt we'll see more service providers adopting it to their products at some level.
SASE is complex development-wise, and no singular vendor offers a complete platform yet. It enables a series of great cybertech companies to develop crucial security functions like advanced digital identification features, secure web gateways (SWG), ZTNA, or DNS filtering, making it easier for new cybersecurity start-ups to jump in.
How can SMEs and enterprises leverage Nord Security's SASE platform to help them mitigate new cybersecurity risks? What are some of its key functions and what makes it stand out against competitors?
Justas Morkunas: Nord Security developed NordLayer, a remote access solution that helps businesses of all sizes to transform their cybersecurity infrastructure towards SASE. Compared to other legacy VPNs, we're cloud-native and not dependent on any existing or additional hardware the client might have. Our gateways and servers are globally available at a moment's notice, with malware protection and ThreatBlock technology embedded in our cloud layer.
NordLayer seamlessly integrates zero trust-based endpoint security features and a Control Panel for managers to have centralized settings, activity monitoring, a simple licensing model, and user management for organisations with fully remote and hybrid work arrangements.
The global SASE market size is projected to grow from $1.2bn in 2021 to $4.1bn by 2026, recording a Compound Annual Growth Rate (CAGR) of 26.4% from 2021 to 2026. Do you think SASE will continue to thrive as SMEs and enterprises strategically invest in hybrid work applications?
Justas Morkunas: The numbers and industry context showcase that the SASE framework is the current milestone for upcoming technological advancements. Also, our recent partnerships with Pax8, Exertis, and Ingram Micro solidify the need for businesses to transition smoothly to SASE. For instance, the previously mentioned SSE framework is a derivative of SASE based on similar functionalities but focused more on securing organisations. We must acknowledge that businesses and IT industry stakeholders will continue to operate within hybrid and remote work conditions — and SASE will keep evolving to fit the existing demand.
How do you think SASE technologies will evolve in the future? Is it the most effective tool out there right now for today's distributed workforce?
Carlos Salas: SASE - alongside all cybersecurity tools, frameworks, and paradigms - will continue evolving at an accelerated pace, as every day we encounter new scenarios, challenges, and opportunities from the cybersecurity perspective. On today's standards, SASE implementation - if done correctly - is the best way to implement a distributed workforce using encrypted communication and cloud infrastructure integration.
What about AI, ML, and quantum computing? How will those emerging technologies affect cyber security in the future?
Carlos Salas: AI and ML are already shaping cybersecurity as we speak, for example, by using AI algorithms to detect network intrusions and heuristic-based security suites that can detect malicious behaviors in your infrastructure.
Regarding Quantum computing, international teams of cryptographical experts are working on new encryption algorithms for this more recent generation of computational power. Very likely, in the short term, we will be able to start implementing these new cybersecurity technologies in our daily lives.
Pictured (L-R): Salas and Morkunas