Submitted by Antony Savvas on May 24, 2023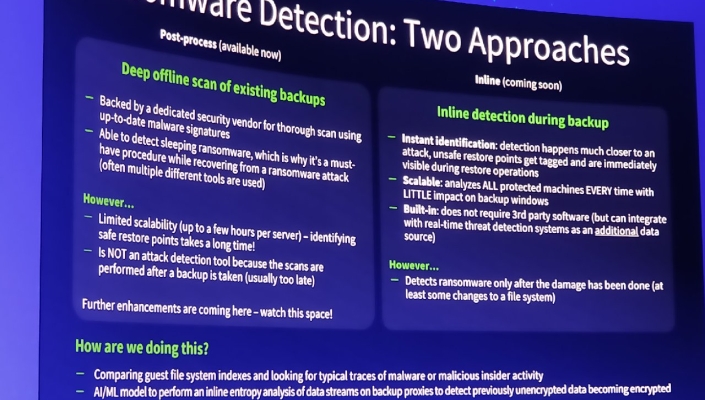 Veeam's annual partner and customer event VeeamON is ongoing this week in Miami, and it illustrates how the data protection market is being driven by an increasingly intertwined ecosystem of technology partnerships.
Veeam launched the latest version of Kasten by Veeam at the show, to deliver Kubernetes backup and disaster recovery to customers via its tens of thousands of partners.
Kasten K10 V6.0 better protects applications and data against ransomware attacks and has new cloud native integrations, not least with Veeam's own Veeam Data Platform, a technology stack launched earlier this year.
It is also integrated with container platform Red Hat OpenShift, for instance, for enterprise grade data protection, and is also aligned with other different tools and processes customers already use.
Kasten K10 V6.0 also offers additional hybrid cloud support on GCP (Google Cloud Platform), cross-platform restore targets for VMware Tanzu environments, and new storage options for NetApp ONTAP S3 and Dell-EMC ECS S3, allowing for more freedom of choice and interoperability with storage targets.
"The increasingly intricate and sophisticated nature of Kubernetes clusters makes deploying new services and ensuring adequate data protection for them a daunting task," said Danny Allan, CTO and senior vice president of product strategy at Veeam. "With Kasten K10 V6.0 integrated into the Veeam Data Platform, customers can reduce complexity in their Kubernetes deployments, allowing their cloud native environments to reach their full potential."
Kirsten Newcomer, director for cloud and DevSecOps strategy at Red Hat, added: "As the number of containers running in production continues to increase, organisations need security and data protection capabilities that are able to scale with their deployments.
"Through our collaboration with Kasten by Veeam, we are providing customers with additional flexibility and choice in how they protect their Kubernetes workloads."
The 1,500 delegates at VeeamON also heard about Veeam Data Platform.NEXT, the company's roadmap to enhance data products further, including in-line processing of data to help detect ransomware, for instance – see picture. Instead of Veeam trying to analyse everything for rogue code on customers' systems, it will use wider security partnerships with companies like Scality, CrowdStrike and Palo Alto Networks to improve its network analytics and observability, as well as reducing CPU cycles.
Veeam chief operating officer Matthew Bishop told IT Europa: "We always provide our partners with a product roadmap that will not let their customers down."