Submitted by John Garratt on April 21, 2021
Managed Services Providers are optimistic about the future, even though the technology keeps moving on, the security issues are dominant and resources scarce. A successful two-day online event, the Managed Services Summit Live III – the third in the series, brought experts, MSPs and suppliers together in a fast-paced chance to engage.
The question of consolidation in an industry looking at double-digit growth came up many times in the two days, with the concluding panel of experts split on whether the strong acquisition activity among the larger MSPs would be offset by the rising numbers of cloud-based entrants, many coming from other MSPs or customers to set up on their own.
No-one challenged IT Europa Editor John Garratt's research which showed yearly growth of over 20% in total revenues, though at the end of the first day, Alex Winter from ConnectWise which has been monitoring the latest numbers said that a quarter of MSPs lost money last year. OK, so another quarter made super returns of over 18% on EBITDA, with most averaging 8.5%.
But offering something different obviously matters, as many vendors were keen to show, and MSP founder Tarek Meliti from TDM Group opened the first keynote by positioning his MSP model as a business service provider. This meant involvement in customer business decisions and a commitment on both sides to the strategy, which could mean turning down some business. "It requires a deeper than usual understanding of the customer business and we have tools and the people to do this," he told the online conference.
Another MSP leader, Nigel Redwood chairman of Atlas Cloud, reminded everyone that the differentiator was quality, and the focus on customer experience rather than SLAs. "It is a holistic approach which looks beyond the superficial measures."
As a measure of the changes in the last year: "Two years' digital transformation in two months and move to remote working are what most MSPs have been faced with," said Alexander Draaijer at Splashtop. "Certainly, managed services partners have been a real growth and success area for Fujitsu in the last year" said Fujitsu's Graham Bromham But partners were now dealing with many changed plans, not just uncertainty, he said and "some projects have come back at even bigger scale".
Many current conversations are about cloud and managed services is an area where channel cloud specialists are growing said Florian Malecki, International Product Marketing Senior Director at StorageCraft. He sees more MSPs and hosting businesses with cloud apps and services offering true failover in hybrid models.

All the MSPs at the event agreed on the sector's strong growth position for 2021, but it would not be plain sailing, as other vendors including cybersecurity experts warned of the increasing tide of bad actors looking for MSPs as targets. Cybersecurity is the top opportunity for MSPs in 2021 Amelia Paro (above), managing channel development at ID Agent told MSSLive, asking MSPs to up their game around remote devices by driving multi-factor authentication.  
In another keynote Thorsten Stremlau, CTO at Lenovo and speaking for the Trusted Computing Group, which includes Microsoft, IBM, HP, Levono and Dell,  warned of more attacks on supply chains including MSPs. In response the industry leaders were working on new implementations around standards such as firmware integrity and evolution to cyber-resilience, he said. "Security is not about the next shiny object - trusted computing aims to drive a single standard to make it easy to implement," he said. Service providers now need to know how this has changed, especially in the last few months.
Sophos' inbox is very busy with messages from MSPs under attack or not even sure if they are being hacked. "It means lots of busy conversations," says Dimma Dabbour, senior MSP account manager.
And the technology changes were not all around security "Most storage is still running on standard devices - this is at the start of the change to storage as-a-service," said Boyan Ivanov of Storpool.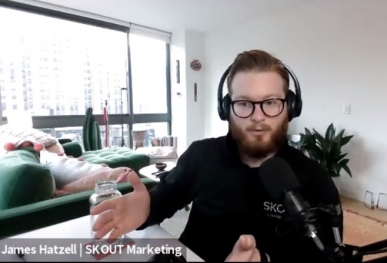 It was not even all about the technologies, even in security. SKOUT cybersecurity's marketing head James Hatzell (pictured above) said that a real change over the year was MSPs thinking more about reaching out to customers – webinars were no longer enough. When some 70% of new MSP business is driven by referrals; a problem in a time when customers have not been able to mingle. MSPs should not spread themselves too thinly, advised Alex Ford at IT Glue.
And "culture" is important - people and resources are available to partners said Exclusive Networks' Adam Williamson; "technology doesn't disrupt, its consumption does". As a distributor he aimed to help address issues of limited skilled resource in end users as well as MSPs.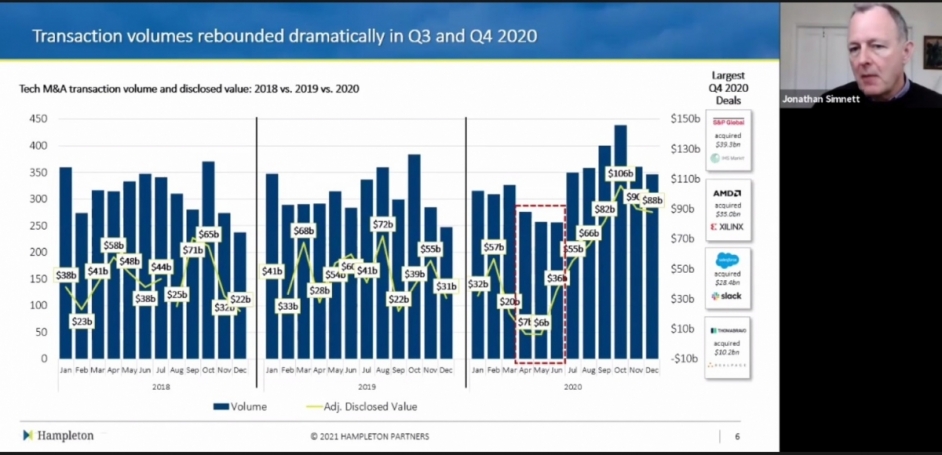 In a keynote on the second day, Jonathan Simnett (above) from tech M&A experts Hampleton Partners reminded the audience on the golden rules to creating value in the services business with the quality of the business as key, and the realisation of recurring revenues the most important factor. "Yes, there was a lot of money, which was driving deals – about a third coming from private finance, the others being existing service players wanting to expand capabilities."   
In a sector with a high growth, building value would help preserve a business for sale if that was what was wanted, and there would be plenty of new players to keep competition lively, the final panel concluded.