Submitted by Antony Savvas on May 19, 2022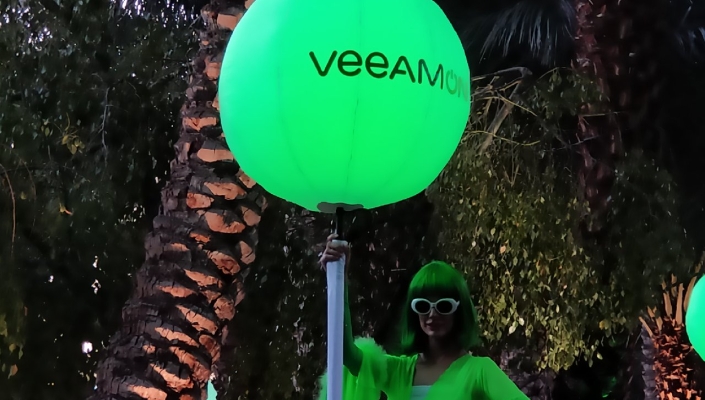 Cloud data management vendor Veeam has outlined its sales growth and channel strategies going forward, at this week's VeeamON customer and partner conference here in Las Vegas.
Under a new CEO, and reporting continued sales growth over the past year and for the first quarter of this year, the firm was pleased to return to an in-person event to report the good news to its diehard customers.
The last in-person VeeamON took place in Miami in 2019, and delegates have just been told the event will be returning to that Florida city next year. Who knows, maybe by then the $1 billion-plus turnover company will have made its first move towards a much vaunted IPO?
For now though, new CEO Anand Eswaran told attendees: "While we've all made the most of virtual experiences over the past couple of years, there is no substitute for real-life engagement. We are not only sharing our vision for the future of data protection, but that we have delivered 25% ARR growth year-over-year (YoY) for Q1'22, with our cloud, SaaS and Kubernetes businesses all growing significantly."
That growth figure was actually down on the 27% ARR increase for the full-year for 2021, with Veeam Backup for Microsoft 365 business growing "faster than expected" with 73% YoY growth, and the Veeam Availability Suite growing over 36% YoY.
For the Q1 2022, Veeam is pleased though with the 78% increase YoY across its subscription business.
Updates
At the show, Veeam provided a preview of upcoming updates. Expected 2H'22, Veeam demonstrated innovations in cloud-native solutions for AWS, Azure and Google Cloud, and new SaaS offerings for Microsoft 365 and Salesforce.
Veeam Backup & Replication v12 will also make its first commercial appearance later this year.
"We help more than 450,000 customers all over the world protect their data from malicious actors, and eliminate down time and data loss," said Danny Allan, CTO at Veeam. "With us, you own, control and securely backup and recover your data anywhere in the hybrid cloud."
After more than 850,000 downloads of Veeam Backup & Replication v11, Allan showcased the future with v12, which will come with additional cloud accelerated features, including direct writes to object storage and cloud-based agents.
Additionally, "immutability everywhere" provides greater control and protection for "even faster ransomware recovery" and improved protection from other threats; and new enterprise applications support greater efficiency at scale.
Channel
From starting out as mainly a provider of data protection for SMBs, Veeam reports that 53% of its global business now comes from enterprises, so there is a great variety of partners amongst its 35,000-strong channel ecosystem.
CEO Eswaran says the firm will continue to grow its channel reach amongst MSPs, GSIs and hyperscalers to support increasing enterprise business, but no partners will be left behind when it comes to sweating out the product opportunities to support different data workloads going forward, he maintained.
This will build on the company's established protection for Microsoft 365, and the forthcoming product for Salesforce data, as well as recently launched protection for Kubernetes workloads through the acquired Kasten unit.
Eswaran confirmed the company was "more open" to acquisitions to help it move into "adjacent" data protection markets.
In data backup and replication, Veeam competes against the likes of Dell EMC, IBM, Veritas, Cohesity, Commvault and Acronis, among others.