Submitted by John Garratt on March 18, 2020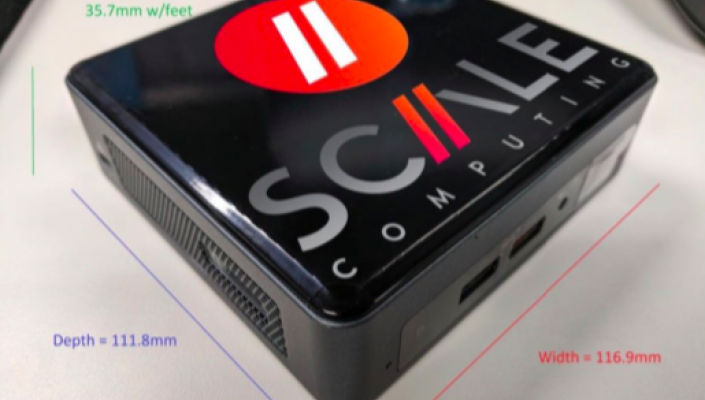 Edge connectivity solutions provider Scale Computing has signed a strategic distribution partnership with ADN Distribution for the DACH region.
Germany's ADN will distribute the vendor's solutions to system integrators, cloud and managed service providers, software houses and value-added resellers in Germany, Austria and Switzerland. They can take advantage of Scale Computing's edge computing, virtualisation, server, storage and backup/disaster recovery system that comes as one complete, easy-to-use, small footprint platform. With all components built-in, including the hypervisor, Scale Computing's HC3 system customers have no need for third-party components or licensing. This all-in-one configuration simplifies management and maintenance, which helps to streamline tasks, saving time and money.
IT Europa met Scale Computing at its San Francisco headquarters last December, and the company could be branded as a "baby-Nutanix" hyperconverged infrastructure vendor for the edge market. The new HE150 unit launched at the time is powered by Intel technology.
The appliance also introduced the HC3 Edge Fabric – all-in-one virtualisation infrastructure - which eliminates the need for a backplane network switch requirement, lowering the TCO and delivering simpler connectivity for edge networks. HC3 uses an open-source hypervisor.
The HE150 comes ready for industrial and IoT applications. It is an all-flash, NVMe storage-based compute unit that can be deployed almost anywhere - without requiring a rack or server closet - whether that be a 5G base station to a multi-site retail unit or remote, harsh weather petrochemical plant. The ADN partnership will enable businesses in the region to build affordable, high performance HCI and edge solutions where existing technologies were frequently too complex and expensive to meet their needs.
ADN will also offer the HC3 solution as part of its MSP services, including disaster recovery-as-a-service (DRaaS), infrastructure as-a-service (IaaS), remote management as-a-service (RMaaS) and virtual desktop as-a-service (VDaaS).
"ADN have a long and successful track record as one of the leading value added distributors in Germany, Austria and Switzerland," said Johan Pellicaan, VP and MD for EMEA at Scale Computing. "Their team has the experience and expertise to bring our technology to market and meet demand in the channel for innovative and affordable solutions for businesses building edge infrastructure."
Hermann Ramacher, managing director at ADN, said: "As we have seen from its growing international success, Scale Computing is meeting a precise need across the market for high performance, affordable HCI and edge solutions.
"We anticipate significant demand from our channel partners who work with customers across a huge range of markets where edge is quickly becoming a mission-critical part of their strategy."
In San Francisico last year, Scale Computing co-founder Scott Loughmiller told IT Europa: "Edge sites usually have no IT staff. Scale shrinks footprint and eases management. This brings high-availability and remote management and security to remote sites.
He said: "When we first launched HC3 in 2012, we said that not everyone would be moving to the cloud, despite what everyone said at the time. Now we have this edge thing – so we were proved right."